Peak Aerial Youth Program
Peak offers an excellent Youth program for Aerial Silks, Hoop and Hammock
Aerial classes are a great way for your child to build strength and confidence in a fun and unique way.
Our 2024 Winter Program will be open for Registrations from 9am Saturday Dec 2nd!
Classes Begin January 5, 2024
Silks Youth - Level 1
Junior ages 6-8 | Youth ages 9-11
Our Junior Level 1 class is designed to be full of fun and play, while your child learns the fundamentals of Silks
Perfect for Beginner aerialists!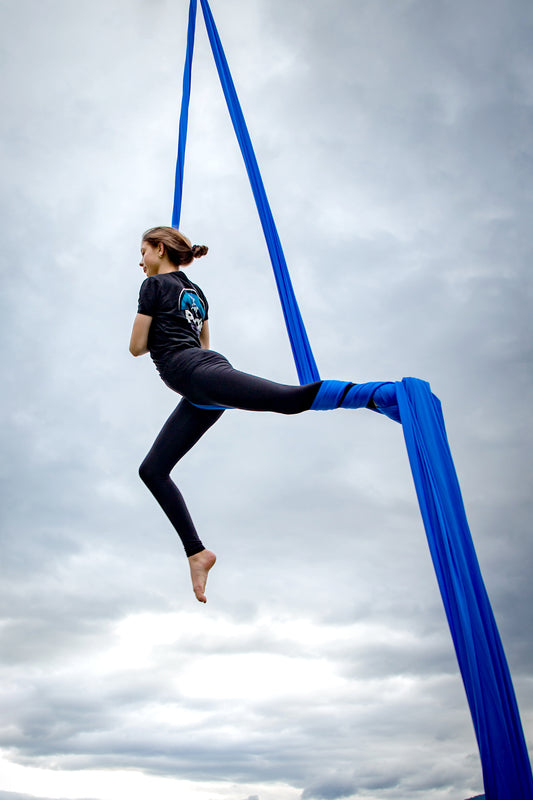 Silks Teens - Level 1
Ages 12-17
Level 1 Silks is for the Teen who has just discovered Aerials! In this class you will discover how to wrap, climb and manipulate the silks, whilst creating beautiful shapes and movement. It has the added benefit of increasing your overall strength, flexibility and coordination.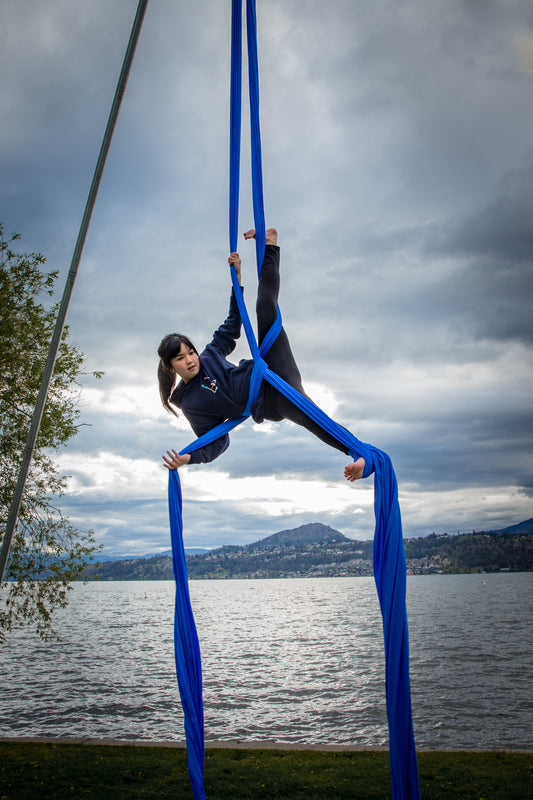 Silks - Level 2
Youth Ages 9-11 | Teen Ages 12+
Level 2 Silks follows on from our Level 1 program.
It is designed to further develop technique and start to take tricks off the ground.

Perquisites:
- French & Russian Climb Half way up
- 3 x Double Footlocks
- 3 x Inverts from ground
- 3 x Crochet Crossback
- 3 x Dancer Wraps
- Russian Hip Tilt 
- 20 Second Hang
Silks Youth - Level 3
All ages, by invite
Level 3 Silks is our intermediate class where the students will start to build towards more advanced skills, sequencing and drops.
Prerequisites:
- French, Russian & Crochet Climb
- Aerial Footlocks Dancer & Figure 8
- 3 x Aerial Inverts  
- 3 x Aerial Crochet Crossback
- 3 x Aerial Catches
- 3 x Hip Lock Fan kick entry
- 40 Second Hang
Silks Youth - Level 4
All Ages, by invite
This is our Advanced Youth class that will be building their knowledge of wrap theory and working on their routine creation & artistry whilst they learn high-end tricks, drops and sequencing.
Prerequisites:
- 4 x Circus climbs
- 4 Different entries into Crossback
- 5 x Aerial Inverts w/ straight legs
- 3 x S Wrap & Smooth windmills
- Competent at: Star drops, Revolutions, Ankle Drops
- 3 x Hiplock with Split silks entry
- 60 Second Hang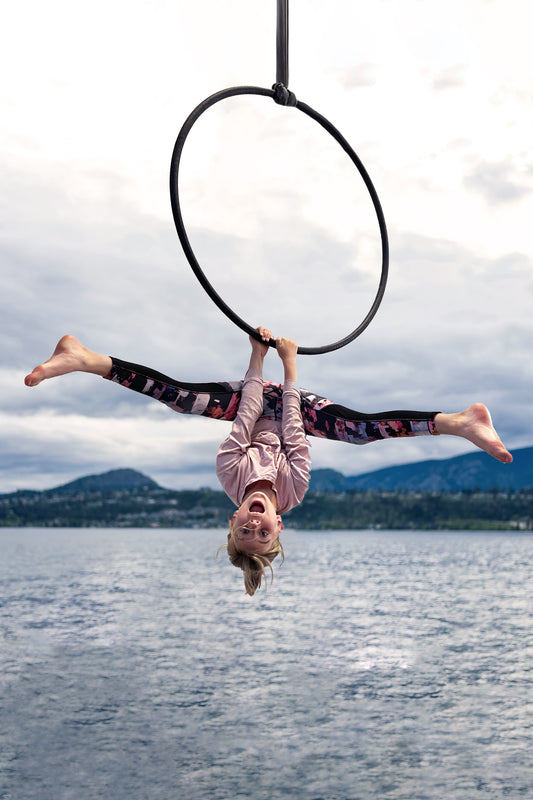 Hoop Youth - Level 1
Ages 8-14
If your kid loves the monkey bars, then they will certainly love our
Aerial Hoop classes! Here your child will learn how to lift, twist, spin
and roll into cool positions and combos that will help increase their
strength and flexibility.
Hoop Youth - Level 2
Ages 8-16
Level 2 continues with developing higher level skills and spins
Prerequisites
- Invert from ground
- Pull over (bottom bar)
- Clean top-bar mount
- Elbow hang
- 40 second hang from top bar